Contact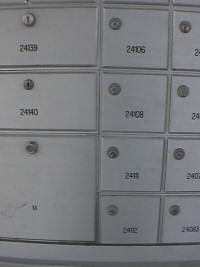 Until May 31st, I can be contacted at the following address:
Craig Hartnett
P.O. Box 24108, APO
Richmond, BC V7B 1Y2
After May 31st… your guess is as good as mine at this point, as I'm still waiting for a better option than the generous offer of free mail forwarding for six months.
Email
You can also email me at save-the-apo@salace.com.
Canada Post
If you want to contact Canada Post:
Richmond delivery centre: 604 273 3743
Richmond/Delta retail business manager: 604 482 4030
Customer service call centre: 1 800 267 1177 (if nothing else you can open a file and get a reference number)